What's the difference between IP55 and IP66 protection rating?
We know that the jargon when it comes to tech can be a little bit confusing! A question that our customers often ask is the difference between protection grades for our outdoor televisions.
Our IP66 rated models are all made by Proofvision, who are specialists in waterproof electronics to make sure that we can offer you powerful outdoor tech that can be left outside all year round!
What is the difference between the protection grades on Outdoor AV?
The letters IP are short for Ingress Protection Rating. Still not sure what that means? Let's clear it up! The numbers that follow IP focus on different protection offerings.
The first digit is the dust protection level which has a classification range of 0-6. A television with a rating of IP66 has a protection level of 6 which means dust is completely prevented from entering! The unit has full protection against dust and other particulates, and is completely dust tight.
The second number is the waterproof or moisture protection level, which has a rating range of 0-8. A level 6 from an IP66 rated waterproof television offers protection against direct high pressure jets so will withstand the great British weather, but wouldn't offer protection against full immersion in water like a diving watch!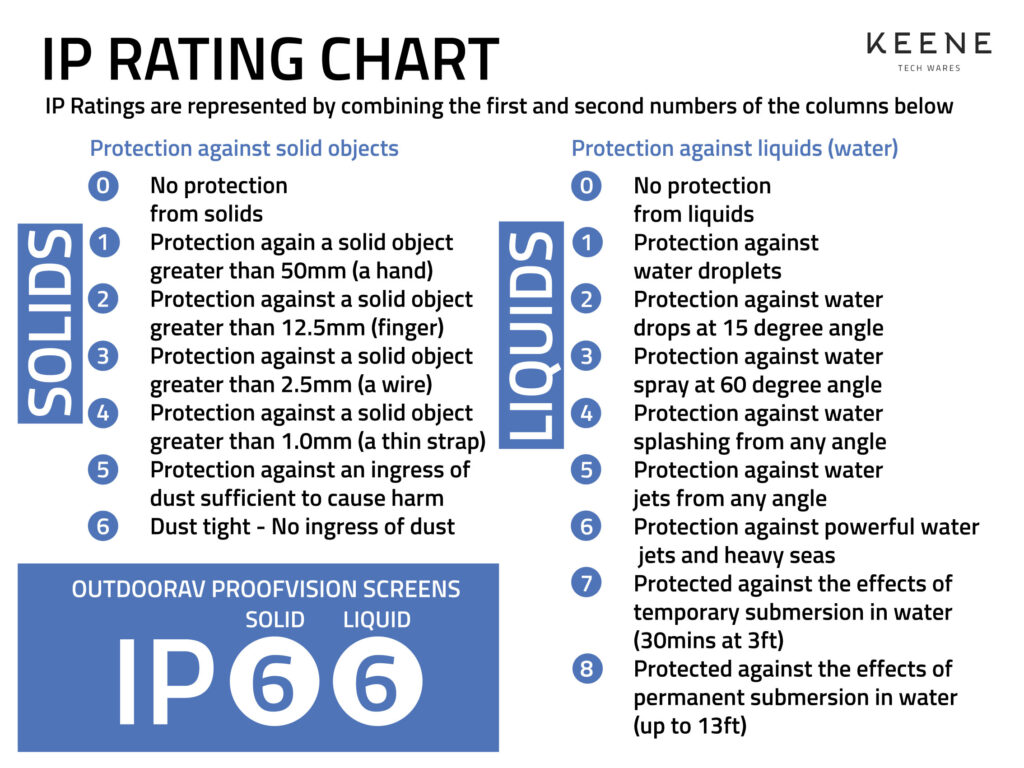 To find out more about upgrading your outdoor space with OutdoorAV, just get in touch. Our knowledgable and friendly team are on hand with expert advice.
Just call us on 01684 778945, fill out the contact form or email sales@keene.co.uk to find out more.